The St. Margaret of Scotland Conference of St. Vincent de Paul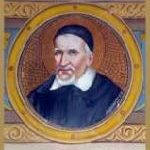 Ministry is the bridge that connects the Gospel to the needs of God's people. Through ministry, we share with others a glimpse of Jesus, and therefore, the ministry of this Conference of the Society of St. Vincent de Paul is to bring concrete aid and the comfort of the Gospel to those who are poor, suffering and in need. This loving service, graced by the Spirit, brings each member and the Neighbors served closer to God. The Ministry of St. Vincent de Paul witnesses to the world that Christ and his Gospel message are alive today and being preached through action at the local level. Works on behalf of our brothers and sisters who are poor are the most vivid expression of Christ's presence in the world.
The Society's first Conference in the United States was established in 1845 in St. Louis, Missouri, at the Basilica of St. Louis King of France, or "Old Cathedral". On November 16, 1845, Bishop Peter Richard Kenrick dedicated the new St. Vincent de Paul church on South Eighth Street and, on November 20, 1845, the Society was born in the United States. For more than a century, the St. Margaret of Scotland Conference of the St. Vincent de Paul Society has provided physical, emotional, spiritual and financial assistance to our less fortunate Neighbors within our parish boundaries.
The foundation of the Society of St. Vincent de Paul is simple. We are a group of lay Catholic volunteers from all walks of life, helping those in need with the basic necessities – food, clothing, shelter, utility assistance, and other needs. No work of charity is foreign to members of the Society as we work diligently to find the best ways to meet the needs of our neighbors.  It is through the charitable donations of you, the parishioners and friends of the Conference, that we are able to continue to meet the needs of our Neighbors in need.  Throughout the year, the Conference holds various fundraisers intended to help in meeting the ever-increasing needs of God's poor.
Members are always welcome and information on joining in the work of the Gospel through the Ministry of St. Vincent de Paul can be obtained by contacting the President, Jim Relleke, at rellekej@yahoo.com.  Please consider joining us as we work to bring the Gospel to our Neighbors in Need.  Your participation through active membership, prayer, and financial contribution is essential to the continued success of our Ministry.  Monetary contributions can be made by means of WeShare on the parish website, by using the envelopes provided in your envelope packet, or by writing a check made payable to St. Vincent de Paul and placing in the weekend collection or mailing to: SVdP Conference, 3854 Flad Avenue, St. Louis MO 63110.