The St. Margaret of Scotland Conference of St. Vincent de Paul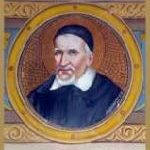 The Society of St. Vincent de Paul was founded in 1833 to help impoverished people living in the slums of Paris, France. The primary figure behind the Society's founding was Blessed Frédéric Ozanam, a French lawyer, author, and professor in the Sorbonne. He was beatified by Pope John Paul II in 1997.
The Society's first Conference in the United States was established in 1845 in St. Louis, Missouri, at the Basilica of St. Louis King of France, or "Old Cathedral". On November 16, 1845, Bishop Peter Richard Kenrick dedicated the new St. Vincent de Paul church on South Eighth Street and invited Fr. John Timon, CM to preach. With prominent laymen in the congregation, who took hold of the idea and held an organizational meeting on November 20, 1845, the Society was born in the United States. Bishop Kenrick appointed Fr. Ambrose Heim as a spiritual advisor to the Conference.
For more than a century, the St. Margaret of Scotland Conference of the St. Vincent de Paul Society has provided physical, emotional, spiritual and financial assistance to our less fortunate Neighbors within our parish boundaries.
The foundation of the Society of St. Vincent de Paul is simple. We are a group of lay Catholic volunteers from all walks of life, helping those in need with the basic necessities – food, clothing, shelter, utility assistance, and other needs. No work of charity is foreign to members of the Society so we work diligently to find the best ways to meet the needs of our neighbors.